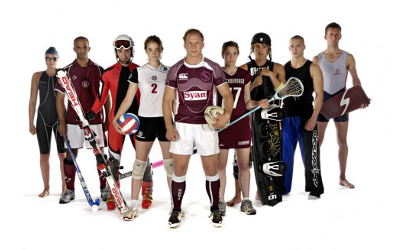 PARENT
Video Analysis
S & C
Scheduling
Playbook
Athlete Management
Team Selections
Give your children the same system as Olympic Gold Medal winners and Pro Athletes.
Are your children getting everything they need to fulfil their sporting potential?
Coaches and teachers do a great job (and often for free) but they have to look after the whole squad - only you can devote 100% attention to your children.
Be smart about it - work with the coaches and benefit from their knowledge and experience, and fill in the gaps yourself.
Take control of the athletic development of your children.
This service isn't for everyone.
Don't force your child into taking sport more seriously than they want to. Your children (particularly younger children) should
play
many different sports, with the emphasis being on play! It should be fun.
The time will come when your child wants to take things a bit more seriously - that is when sports-train can help.
Why Use sports-train.com?
Scheduling - Keep track of the whole family's sporting activity.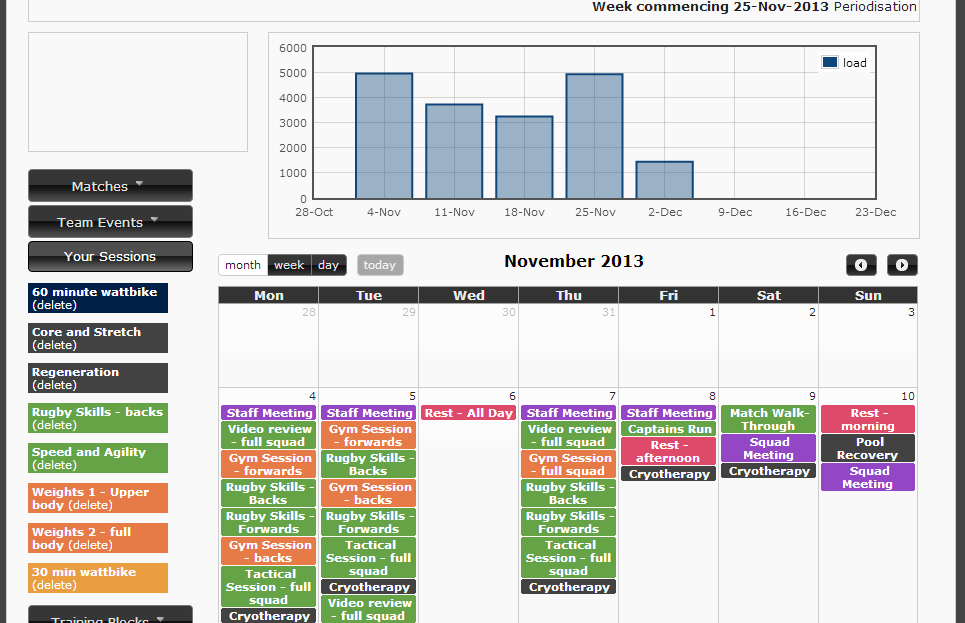 Year Planner
Detailed Online Schedule
Drag and Drop
Attendance Tracking
Monthly, Weekly, Daily views
Video Analysis
Video Analysis and sharing is no longer restricted to elite sports teams. You may well already be filming your matches or training sessions. Our video analysis tools will help you to use your video to improve your team's performance. You can:
upload your video to sports-train.com
tag your video online - tries, goals, anything you want
create a searchable library of your children's matches
you can even pause the video and draw on it to highlight coaching points
Actions speak louder than words though, so
click here to see some of what you can do!
We've pre-tagged a match video with some basic events to demonstrate. Click the tag buttons at the top to move to each piece of action, and click the Drawing On button to enter 'drawing mode'.
Athlete Monitoring
Be aware of the health and wellbeing of your children with workload and recovery monitoring. Are they doing enough activity? Is the balance right, are they doing too much of a particular kind of activity?
Dedicated smart-phone site for data entry
Manage activity and training loads across mutliple sports and teams
Automated 'heads-up' reminders and alerts
Strength and Conditioning
Strength & Conditioning levels in schools sports are increasing dramatically, particularly in rugby players. In the weights room the most important part of your programme is teaching technique and form to ensure that athletes can avoid injury. Use our rep max calculator to define strength programmes without using any maximal lifting, and to individualise your sessions to each athletes level. This short video demostrates some of the features of the Strength & Conditioning module.
You can be using sports-train within minutes for just
£25
per month.
To answer some of the questions you may have:
What does the system cost?
£25
per month (or £195 per year) for a single family.
For EU residents we need to add VAT at the applicable local rate.
Risk Free.
Monthly plans come with a
7 day free
trial period. Yearly plans have
14 days free
.
Is there a minimum period for monthly plans?
No. You can cancel anytime you like, and resume again any time you like. If you only want to use the system during the season you can do just that. We'll save everything for you until you come back.
How much video can I upload?
As much as you need.
Is it just for rugby?
We started building the system for rugby, but it is suitable and has been used for many team and individual sports. We are adding more features and functionality for other sports, so if you need something specific please let us know. Sports-Train is currently used for rugby, hockey, football, cricket, and volleyball, as well as by individual athletes, strength & conditioning coaches, and personal trainers. The video tagging and analysis tools can used for any sport.
How do I pay?
Payment is made online with a credit via our secure payment pages. For annual or multi-year plans please contact us if you wish to be invoiced.